Review Overview
Great creatine from Gaspari
Summary : Users and reviewers alike recommend Gaspari Nutrition SizeOn Maximum Performance creatine...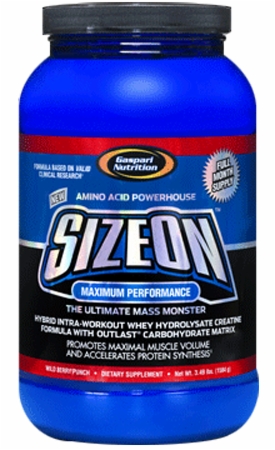 Price Comparison:
Overall Quality
"SizeOn is much more than just a product with an ingredient profile consisting of BCAA's. The additional ingredients and carbohydrates are what make this intraworkout supplement a cut above the rest. All it took was one time of using this product and I now enjoyingly rely upon it. I'm no longer fatigued half way through my work outs from drinking from the water fountain alone. Just try it."  With such reviews by real users, it is easy to understand why Gaspari Nutrition SizeOn Maximum Performance received ratings of 8.4 out of 10 for excellence and has made it onto the best creatine supplements lists this year.  With 7 grams of protein, 100% of your R.D.A. for Vitamin C and high percentages of B vitamins, thiamin, Riboflavin and various other nutrients required for health, SizeOn offers more than just a great taste.  Users love the increased energy, "great pump" and lean muscle gains in short periods of time that SizeOn provides.
>> #4 in Top 10 Creatine Supplements 2013
Price:
Shopping around for the best price on Gaspari Nutrition SizeOn Maximum Performance may be a little trickier than with some other creatine supplements.  Compared to other creatine supplements, however, the average price is a great deal on a product of this quality.  The price range is closer per serving on this one than others, ranging from $34.95 (illpumpyouup.com) to $43.75 on other sites like amazon.com, a1supplements.com and bestpricenutrition.com for the 3.49 pound tub.  Some sites offer smaller sizes (11.59 ounces) for a "smaller" cost, but at a much smaller savings.  For those looking to test this product out before committing to a larger tub, bodybuilding.com has the best price we've found on the sample size (5 servings) at $12.78. Lowest Price We Found
Taste:
Gaspari Nutrition SizeOn Maximum Performance comes in four flavors: Grape Cooler (complete with real grape seeds), Orange Cooler, Arctic Lemon Ice and Wild Berry Punch.  The lowest flavor rating is 7.3 (Arctic Lemon Ice), while the Wild Berry Punch ranked a whopping 8.6, with Orange Cooler close behind with 8.2 out of 10.  One user commented that "it tastes amazing [in my opinion]. Very thirst quenching during a workout."  Another said, "It tasted great and didn't mind drinking it during my workout!"  Some users recommend mixing this product with grape or other juices for an even better taste and texture. Browse Flavors
Conclusion:
Users and reviewers alike recommend Gaspari Nutrition SizeOn Maximum Performance creatine supplement for lean muscle gains and increased performance in the gym as your intra-workout supplement.  "This is a very effective supp. I had great results while taking this supp as intra-workout.  I was eating a moderate to high amount of carbs at the time and my strength has greatly increased. I gained weight too, mainly lean body mass."  Another user commented that, "…you can feel the difference with the first time using it."  Users recommend cycling in and out of this product, one month on, one month off, for best results in healthy, lean muscle gain.  Some users reported lean mass gains of 25 pounds in as little as three months, combined with proper diet and exercise.  "…SizeOn really gives you that explosiveness in the gym.  Can't wait to purchase it again.  10/10 easily."  Expect great results with proper use of this product. Buy Now
Online User Reviews
Rating:
love Sizeon!! gives me that extra push during my work outs.
By: Gohardorgetout
Rating:
So far so good, I just started using SizeOn. The only thing I can say so far is it tastes GREAT!

By: Avoelke
Rating:
Great taste! My strength gains have been solid and for someone who really restricts calories during contest prep, I have not only noticed a fuller muscular look but I have actually gained 1 lbs during the 18 week prep. Doesn't hurt to have a product that was studied and published in the JISSN.
By: sgamma01