>> CLICK HERE TO FOR THE LATEST 2014 LIST OF THE BEST PROTEIN POWDERS <<
The best protein powder supplements for 2013;
1.) Optimum Nutrition Gold Standard 100% Whey
Easily our top pick for the top 10 protein powders for 2013. Created using the highest percentage of Whey Protein Isolates as its primary protein source, Optimum Nutrition's 100% Whey Gold Standard is indeed an industry standard. At 90% pure protein, these isolates are the most potent that are available and allow ON's 100% Whey Gold Standard to offer 24 grams of the purest protein per serving. Mixes very easily and includes very tasty flavors such as Cake Batter, Cookies & Cream, Rocky Road, Double Rich Chocolate, Coffee, Tropical Punch and even Mocha Cappuccino.
#1 Selling Protein Powder on Bodybuilding.com
5.5 grams of essential muscle building Amino Acids
24 grams of protein and 4 grams of glutamine per serving
---
2.) MusclePharm Combat Powder
Among the best protein powders of 2013 is MP's Combat Powder. MusclePharm is quickly gaining ground in the protein game with its Combat Powder. Combat powder uses a combination of whey proteins and casein protein to continuously feed muscle. The protein blend is great for anti-catabolic purposes and features 24g of protein in one scoop. One cant deny that Muscle Pharm has a solid product in Combat Powder considering that it combines a great blend of multiple protein sources, a good amount of protein per serving, and a very large number of servings per container.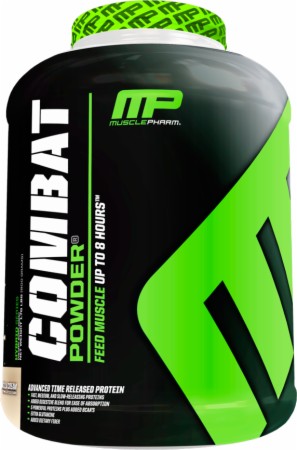 2012 Brand of the Year
25 grams of time released Whey Protein
Loaded with BCAA's, Glutamine and more
---
3.) BSN Syntha-6
BSN markets their Syntha 6 protein blend for any individual who wants ultra-premium protein powder to help with their nutritional and fitness goals. What sets Syntha 6 apart is its amazing taste. Many user reviews rave about the taste when compared to other protein blends. It delivers a very creamy and smooth milkshake taste. Syntha-6 works well as an additional slow releasing protein source throughout the day. With its casein and milk and egg content it is ideal as a morning, lunch or pre-bedtime shake to keep your muscles well fed and is a great enhancer for muscle recovery.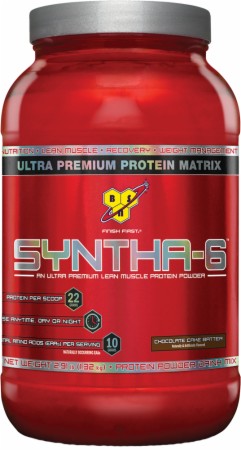 #1 Tasting Protein
Wide Variety of tastey flavors
22 Grams of protein per serving
---
4.) Dymatize ISO-100
If you are in need of a great tasting, higher quality protein supplement at a very good price then look no further than Dymatize ISO-100. With effortless mixability, no sugar, and a high protein percentage Dymatize ISO-100 stands out as one of the best Whey protein isolates on the market today. Offers Zero lactose and Zero carbs for a product that can be used by people with lactose sensitivity or those following a low carb diet.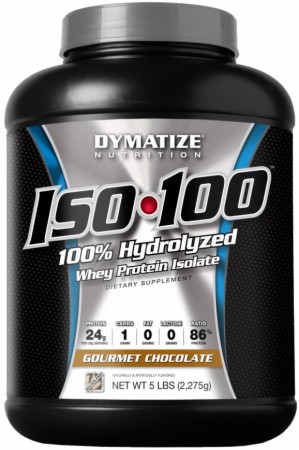 Pure Isolate Protein
Mixes well and tastes great
Zero Lactose and Zero Carbs
---
5.) Optimum Platinum Hydrowhey
Hydrowhey Platinum is the purest, fastest and most advanced whey protein formula.  Optimum Nutrition has created a premium formula by hydrolyzing their protein sources. This also makes Platinum Hydrowhey the fastest-acting whey protein on the market. Because it's made with hydrolyzed whey protein isolates, there is no excess fat, cholesterol or lactose. All in all this is a great choice if you need a fast acting advanced protein source in your diet.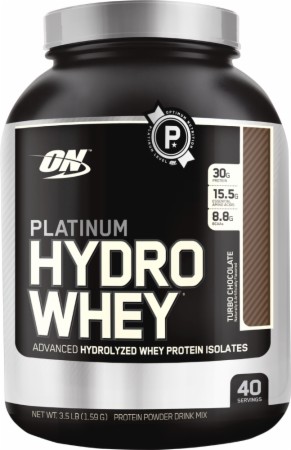 140 Calories a Serving
8.8g of BCAA's
Fast releasing protein
---
6.) CytoSport Monster Milk
Monster milk is a result yielding, wholly empowering food product that performs above expectation. It is designed to sustain your body before, during and especially after a workout. Along with sustaining your performance, Monster milk will replenish your energy and provide you with amino acids needed to promote muscle growth. If you are an athlete that requires proper nutrition, think about picking this one up.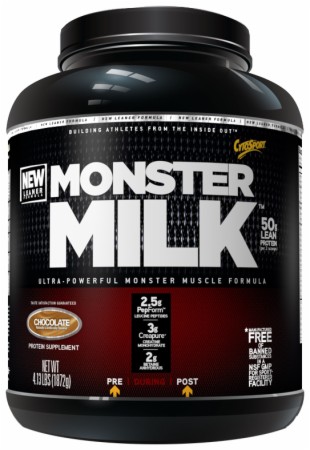 50 grams of protein and 310 calories
5 grams of glutamine
3 grams of Creapure creatine
---
7.) Dymatize Elite Whey Protein Isolate
Dymatize Elite Whey Protein Isolate offers award winning taste, a low carb blend, insta mixability and a Zytrix advanced digestive enzyme matrix. Dymatize has come up with a perfect ratio of essential and non essential amino acids that are easily assimilated. It provides an excellent source of extra muscle fuel that can be depleted during intense workouts. This is a good choice for a refreshing and great tasting protein blend.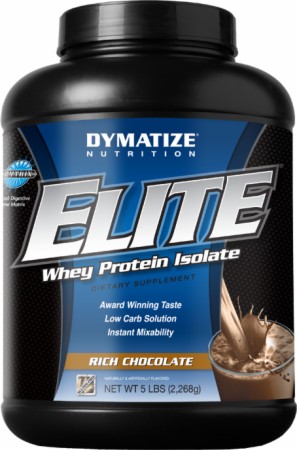 24 grams of protein
0 grams of sugar!
5.5 grams of BCAA's
---
8.) Gaspari Nutrition MyoFusion Probiotic Series
Gaspari Nutrition MyoFusion Probiotic Series is an incredible tasting, easily mixed protein blend. It offers six stages of advanced protein synthesis. Is a source of patented Ganeden BC Probiotic that supports immune and digestive health. This protein comes packed with over 9 grams of essential Amino Acids (EAAs) that support recovery and delievers a gluten and aspartame free formula.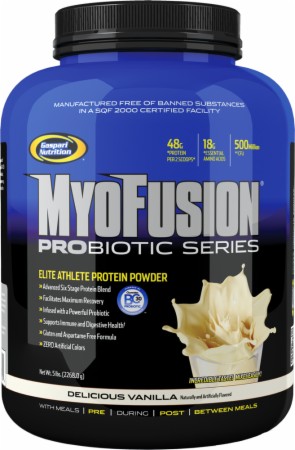 Over 9 grams of EAA's
48 grams of protein per serving
Award winning taste
---
9.) Dymatize Elite Fusion 7
ELITE FUSION 7 was developed to be the most delicious and highly effective protein supplement. It offers sustained release protein and a mixture of different sources needed to maximize lean muscle recovery and growth. This product is perfect for fueling yourself with highly effective protein throughout the day. You can use it as a convenient meal replacer, a protein snack in between meals or a post workout shake to help you grow.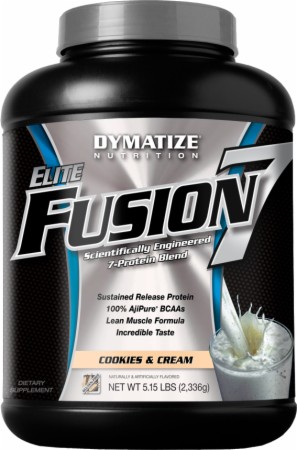 23 grams of protein per serving
5 grams of BCAAs and 5 grams of fiber
Ongoing nourishment throughout the day
---
10.) BSN Syntha-6 Isolate
BSN Syntha-6 Isolate comes with an Isolast protein matrix that provides a 50/50 mixture of slow absorbing milk protein and a much faster absorbing whey protein isolate. Reduces carbs and fat content by 75% compared to other protein powders.  Can be used sufficient meal replacement and protein enhancer for anyone trying to gain muscle. Also comes mixed with a fiber blend that boosts your daily fiber intake that improves digestive health.
25 grams of ISOLAST protein isolate
140 calories per serving
Only 7 grams of carbs and 1.5 grams of fat
---


These are the leading protein powders in general that will take your workouts in 2013 to the next level. These top 10 protein powders will provide you with enhanced recovery, muscle growth, energy replenishment and help you reach your health and fitness goals.
>> CLICK HERE TO FOR THE LATEST 2014 LIST OF THE BEST PROTEIN POWDERS <<