>> CLICK HERE TO GO TO THE UPDATED 2014′S BEST WEIGHT GAINERS LIST <<
The best weight gainer supplements in 2013
Looking to pack on a lot more muscle mass this year? If so, you are going to need a high excess of calories, protein, carbs and good fats. Unfortunately not everyone has the time and budget to fit enough of those macros into their diet on a daily basis.
Gaining solid muscle mass is a very difficult task that requires high amounts of nutrition; thats where a weight gainer can help! Taking one of these mass gainer supplements is going to give you that extra calorie and protein boost needed to build up both mass and strength.
Combine one of the best weight gainers below with a high intensity workout program and you will see you're body gain mass more quickly then ever!
---
10.) Vitol Russian Bear 5000
Russian Bear 5000 Weight Gainer is the leading product for bodybuilders amateur and pro alike seeking to gain bear-like strength and lean muscle mass.
Russian Bear 5000 Weight Gainer comes packed with:
2600 calories/serving
184g of protein per/serving
Biological quality high-grade proteins from non-fat milk solids and egg whites
46 grams of MCT's
Vitamin and mineral formula
Rating:
Serving Size: 4 Lbs 
Price: $36.95  $24.99
---
9.) Dymatize Super Mass Gainer
Dymatize's Super Mass Gainer is a solution to your calorie, protein, and carbohydrate needs with a delicious formula designed to help you build mass and sculpt muscle.
Super Mass Gainer includes:
Great Taste
1,900 calories/serving
82g of protein/serving
17g of BCAAs plus added L-Glutamine and
Creatine Monohydrate
Loaded with Vitamins and Minerals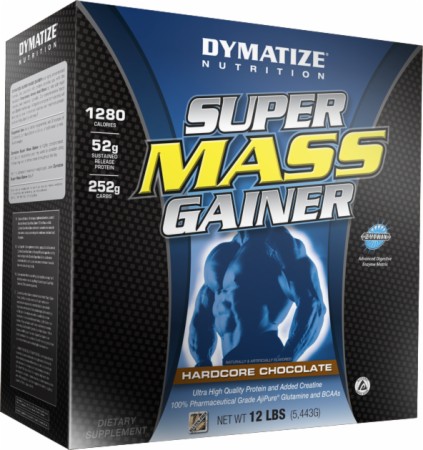 Rating:
Serving Size: 12 Lbs 
Price: $69.99  $39.88
---
8.) Dymatize Elite Mass Gainer
Dymatize ELITE MASS Gainer is a Hi-Protein Anabolic Gainer manufactured explicitly to deliever the right formula for putting on quality muscle mass. Designed for every hardcore athlete that desires to build while aiding in recovery from intense workouts.
Dymatize ELITE MASS Gainer provides:
600 calories/serving
55 g of protein/serving
Sustained Release Protein Matrix, Complex Carb Matrix, Creatine Fusion, Branch Chain Amino Acid Blend, and an Anabolic Lipid Complex
99% Sugar Free
Rating:
Serving Size: 10 Lbs 
Price: $96.99  $59.99
---
7.) CytoSport Monster Mass
Cytosport MONSTER MASS is a strong and easy to digest, mass-building protein formula. MONSTER MASS tastes like an ultra-rich milk shake and contains an advanced 600+ calorie protein, lipid, and carbohydrate blend makes it the optimal nutritional product for gaining quality muscle mass.
MONSTER MASS also comes with a 3:1:1 BCAA ratio to help promote mTOR pathway activation for muscle protein synthesis.
Cytosport Monster Mass provides:
600 Calories/serving
50g of Protein
74g of Carbs
8.4g of L-Leucine
Rating:
Serving Size: 5.95 Lbs 
Price: $64.99  $43.99
---
6.) Universal Nutrition Real Gains
Real Gains by Universal Nutrition is a terrifically powerful weight-cultivating support blend that was established with the hardcore active and athletic person, in mind.
Real Gains has more calories, more protein, more good fats, amazing taste, more fiber and a lot less sugar. UN's Real Gains Protein Complex comes with a highly effective amino acid profile and mixes extremely easily into a liquid with no blender required.
Real Gains Includes:
600 Calories/serving
52g of Protein
88g of Carbs
Low Sugar Content
Rating:
Serving Size: 10.6 Lbs 
Price: $89.95  $57.74
---
5.) MHP Up Your Mass
MHP brings us a highly advanced mass-building formula to increase your nutritional program with Up Your MASS.
With over 10 years of research and development, Up Your MASS is a very powerful compound; it will aid you in putting on pounds of muscle mucsle mass onto the frame of any hard gainer in a very short amount of time.
Up Your Mass provides you with: 
510 Calories/serving
46g of Protein
58g of Carbs
26g Glutamine, 9g Leucine, 7g Arginine, 23g BCAAs
Rating:
Serving Size: 5 Lbs 
Price: $49.99  $32.93
---
4.) CytoSport Cyto Gainer
CytoGainer is another amazing weight gainer product from the folks at Cytosport and was designed precisely for hard gainers in mind.  CytoGainer provides huge portions of protein and carbs, with minimal fat and sugar.
CytoGainer comes packed with glutamine-rich whey, whey protein concentrate, and partially pre-digested whey peptides for improved protein synthesis support. Each serving also provides added Creatine and L-Glutamine to aid in the support of muscle recovery.
Whats inside Cytosport:
560 Calories/serving
54g of Protein
74g of Carbs
97% Fat-Free
Amazing Taste
Rating:
Serving Size: 6 Lbs 
Price: $65.99  $40.99
---
3.) Optimum Pro Complex Gainer
Optimum Nutritions Pro Complex Gainer reminds us to not judge a gainer based solely upon its calories per serving.
When it comes to obtaining lean muscle mass, not all calories are created equally. Unlike standard weight-gain blends that are packed with simple sugars and fats; Pro Complex Gainer delievers a much higher percentage of its calories from protein-7 premium protein sources.
Pro Complex Gainer was made specifically with quality, not quantity, in mind. Because Optimum Nutrition understands that you want to get big and not fat.
Pro Complex Gainer delievers:
650 Calories
60g Protein/serving
85g Carbs/serving
7 Superior Proteins Including Whey, Casein, and Egg
Easy to mix and drink
Rating:
Serving Size: 10.16 Lbs 
Price: $89.99  $65.99
---
2.) BSN True-Mass
TRUE-MASS by BSN is an ultra-premium lean muscle and weight gainer, manufactured to support muscle growth. It comes packed with BSN's signature ultra-premium protein formula to feed an athlete's muscles with essential protein building blocks.
The exclusive carbohydrate blend promotes the caloric support necessary for extreme physical exertion, helping the body prepare for and support recovery from intense training.
Healthy fats supply quick-burning fuel to satisfy the serious athlete's energy demands. And all of these higher-quality ingredients come delivered with BSN's unique flavor technology, producing one of the most mouth-watering mass-gaining shakes on the market.
True-Mass is packed with:
700 Calories
50g Protein/serving
90g Carbs/serving
6g of Fiber
Delicious and easy to mix
Rating:
Serving Size: 5.82 Lbs 
Price: $59.99  $43.98
---
1.) Optimum Serious Mass
Serious Mass is the ultimate weight gain formula on the market by the highly reputable brand Optimum Nutrition. With 1,250 calories per serving and 50 grams of protein for muscle recovery, this instantized powder makes a highly effective post-workout and an in-between meal shake.
Serious Mass provides you with the tools you need to pack on mass quickly and – when combined with intense weight training – sculpt your physique to its full potential.
What makes Serious Mass Better than the rest:
1,250 Calories/serving
50g of Blended Protein
250g of Carbohydrates with No Added Sugar
Enhanced with Creatine, Glutamine, and Glutamic Acid
25 Vitamins and Essential Minerals
Rating:
Serving Size: 12 Lbs 
Price: $49.99  $44.99
---
These are the best weight gainer supplements to buy in 2013 and the leading mass gainers in general that will help you gain muscle mass quickly and increase recovery.
>> CLICK HERE TO GO TO THE UPDATED 2014′S BEST WEIGHT GAINERS LIST <<