>> CLICK HERE TO GO TO THE UPDATED 2014'S BEST WEIGHT GAINERS LIST <<
The best weight gainer supplements in 2013
Looking to pack on a lot more muscle mass this year? If so, you are going to need a high excess of calories, protein, carbs and good fats. Unfortunately not everyone has the time and budget to fit enough of those macros into their diet on a daily basis.
Gaining solid muscle mass is a very difficult task that requires high amounts of nutrition; thats where a weight gainer can help! Taking one of these mass gainer supplements is going to give you that extra calorie and protein boost needed to build up both mass and strength.
Combine one of the best weight gainers below with a high intensity workout program and you will see you're body gain mass more quickly then ever!
---
10.) Vitol Russian Bear 5000
Russian Bear 5000 Weight Gainer is the leading product for bodybuilders amateur and pro alike seeking to gain bear-like strength and lean muscle mass.
Russian Bear 5000 Weight Gainer comes packed with:
2600 calories/serving
184g of protein per/serving
Biological quality high-grade proteins from non-fat milk solids and egg whites
46 grams of MCT's
Vitamin and mineral formula
[tabs tab1="Info" tab2="Buy Now" tab3="Full Review"]
Rating:
Serving Size: 4 Lbs 
Price: $36.95  $24.99
---
9.) Dymatize Super Mass Gainer
Dymatize's Super Mass Gainer is a solution to your calorie, protein, and carbohydrate needs with a delicious formula designed to help you build mass and sculpt muscle.
Super Mass Gainer includes:
Great Taste
1,900 calories/serving
82g of protein/serving
17g of BCAAs plus added L-Glutamine and
Creatine Monohydrate
Loaded with Vitamins and Minerals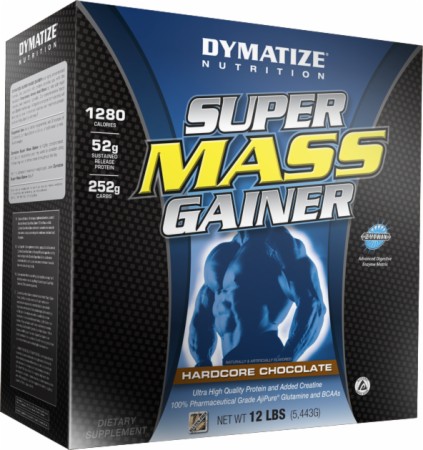 [tabs tab1="Info" tab2="Buy Now" tab3="Full Review"]
Rating:
Serving Size: 12 Lbs 
Price: $69.99  $39.88
---
8.) Dymatize Elite Mass Gainer
Dymatize ELITE MASS Gainer is a Hi-Protein Anabolic Gainer manufactured explicitly to deliever the right formula for putting on quality muscle mass. Designed for every hardcore athlete that desires to build while aiding in recovery from intense workouts.
Dymatize ELITE MASS Gainer provides:
600 calories/serving
55 g of protein/serving
Sustained Release Protein Matrix, Complex Carb Matrix, Creatine Fusion, Branch Chain Amino Acid Blend, and an Anabolic Lipid Complex
99% Sugar Free
[tabs tab1="Info" tab2="Buy Now" tab3="Full Review"]
Rating:
Serving Size: 10 Lbs 
Price: $96.99  $59.99
---
7.) CytoSport Monster Mass
Cytosport MONSTER MASS is a strong and easy to digest, mass-building protein formula. MONSTER MASS tastes like an ultra-rich milk shake and contains an advanced 600+ calorie protein, lipid, and carbohydrate blend makes it the optimal nutritional product for gaining quality muscle mass.
MONSTER MASS also comes with a 3:1:1 BCAA ratio to help promote mTOR pathway activation for muscle protein synthesis.
Cytosport Monster Mass provides:
600 Calories/serving
50g of Protein
74g of Carbs
8.4g of L-Leucine
[tabs tab1="Info" tab2="Buy Now" tab3="Full Review"]
Rating:
Serving Size: 5.95 Lbs 
Price: $64.99  $43.99
---
6.) Universal Nutrition Real Gains
Real Gains by Universal Nutrition is a terrifically powerful weight-cultivating support blend that was established with the hardcore active and athletic person, in mind.
Real Gains has more calories, more protein, more good fats, amazing taste, more fiber and a lot less sugar. UN's Real Gains Protein Complex comes with a highly effective amino acid profile and mixes extremely easily into a liquid with no blender required.
Real Gains Includes:
600 Calories/serving
52g of Protein
88g of Carbs
Low Sugar Content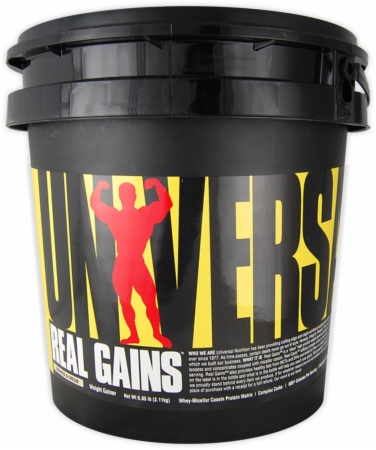 [tabs tab1="Info" tab2="Buy Now" tab3="Full Review"]
Rating:
Serving Size: 10.6 Lbs 
Price: $89.95  $57.74
---
5.) MHP Up Your Mass
MHP brings us a highly advanced mass-building formula to increase your nutritional program with Up Your MASS.
With over 10 years of research and development, Up Your MASS is a very powerful compound; it will aid you in putting on pounds of muscle mucsle mass onto the frame of any hard gainer in a very short amount of time.
Up Your Mass provides you with: 
510 Calories/serving
46g of Protein
58g of Carbs
26g Glutamine, 9g Leucine, 7g Arginine, 23g BCAAs
[tabs tab1="Info" tab2="Buy Now" tab3="Full Review"]
Rating:
Serving Size: 5 Lbs 
Price: $49.99  $32.93